Watch this short MARN overview!
Aurora Machine
Unmatched precision fabrication
Aurora Machine offers unmatched turnkey expertise for creating simple to complex components and assemblies. Using the most advanced automated manufacturing technology available, Aurora fabricates custom precision sheet metal and machined structures for today's advanced world.
Metal fabrication expertise under one roof 
Staffed by a team of seasoned professionals with proven expertise, Aurora excels in engineering, machining, fabricating, powder coating, welding and more. Precision control makes Aurora a true one-stop resource for Milling & Turning, Wire EDM, Automated Fiber Lasering for Sheet & Tube, Waterjet, CNC & Automated Forming, Welding, Sealing & Bonding, Powder & Wet Painting, and Assemblies. Customers benefit from speed, accuracy, cost-efficiency—and most importantly—exceptional end-product quality.
Aurora's acquisition of VI Manufacturing has expanded their capabilities into the Aerospace, Military, and Medical industries, as well as strengthened their capabilities within the Rail and Transport industries.
Machining/Fabricating "plus" customer support
Aurora's one-of-a-kind service experience includes support for manufacturing, planning and strategy, prototyping and testing, and multi-stage/multi-component assembly. These services translate into your project going from concept to completion on (or ahead!) of schedule.
Committed to cost-and-process efficiency
As existing customers will attest, Aurora consistently delivers beyond expectations. Using their considerable engineering strengths and creativity, the Aurora team lowers costs and fabricates parts faster. This includes continually improving supply chain dynamics through lean manufacturing principles applied at every stage. Aurora's ongoing commitment to efficiency helps identify and implement the most advantageous solutions for your programs!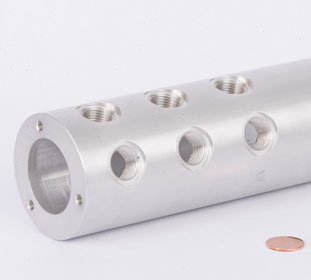 PRODUCT CAPABILITIES
CNC Vertical Milling:
128″ x 55″ x 37.5″
Range of Turning:
.125″ – 10″
Turning Length: Up to 19.68″
Total Machined Tolerances:
+/- .0002″
PROCESS CAPABILITIES
Primary Operations
5-Axis CNC Milling
Large Format CNC Milling
Multi-Axis Turning
High Volume Palletized Milling
Precision Metal Forming
(with CNC Backgauge)
Press Brakes
Fiber Laser & Fiber Tube Laser
Waterjet & Wire EDM
Assembly
Secondary Operations
NAVSEA Non-Destructive Testing
NAVSEA Welding
AWS Certified Welding
Certified Welding Inspector
Sealing & Bonding
In-House Finishing Operations
Precision Grinding
Deburring & Bead Blasting
Grain & Stroke Sanding
Paint & Powder Coating
Fluidized Bed Powder Coating
SUPPORT EQUIPMENT

Drill Presses
Automatic Tapping Machines
Saws (Vertical, Horizontal & Abrasive) Sheet Metal Shears
Sheet Metal Rollers
Power Notcher
Bender (Hand, Wire & Channel)
Orbital Riveter & Lathes
OUTSIDE OPERATIONS
Anodizing & Hard Coat
Black Oxide & Passivate
Centerless Grinding
Electro & Electroless Plating
Electropolish (to 4 Microfinish)
Heat Treating
Other Specialty Coatings
& Surface Treatments
MARKETS

Aerospace
Automotive
Battery
Power Generation
Computer/Connector
Electronics
Defense/Firearms
Military
Marine
Medical
Rail/Transportation
Semiconductor
Superconductor
Telecommunications
Aurora Machine
200 Tech Park Drive
Rochester, NY 14623
Certifications
FAI, FEMA, Control Plans, PPAP
Coordinate Measurement Machines Vision Systems
Camera & Monitor Systems
Digital Dry Film Thickness Meters
ISO 9001 Certified
AS 9100 Certified
ITAR Registered
Qualified OEM Supply Partners
Stamping, Wireforms
& Machining
Swiss Automatic
Precision Turning
Sheet Metal & Structural
Steel Fabrication
3-D Printing, Prototyping
& Plastic Injection Molding
Fabrication, Finishing
& Assembly
Injection Molding,
Investment Casting,
Machining & Assembly
PCB Electronics
Manufacturing & Assembly
"MARN opened doors...
to business opportunities, we would have not been aware of. Marnee knew exactly what industries to target on our behalf to secure projects that fit our capabilities ... I'm currently looking for more rep firms like MARN."
—Ken Pietrzycki | Director of Sales | Laszeray Technology, LLC
"In the short time…
that Marnee has represented Marion, she has proven herself to be more than just a sales rep. She is a team builder – bringing a wealth of experience, services, and outside-the-box thinking to the table. Her energy and enthusiasm have been instrumental in re-engaging our New England customer base as well as engaging new customers in new markets."
—Douglas Johnson | President, Marion Manufacturing
"Onshoring our products...
is a big decision, but Marnee is with us every step of the way - helping us determine how we might migrate to US suppliers to improve parts quality and delivery times without disrupting our inventory demands."
Joshua B | Director of Product Development
"Quality, working parts…
are getting to the customer in a timeframe that used to be impossible – and all from the comfort of our own homes! The price point of a relatively large quantity MJF 3D printed parts has been a game-changer; we're really enjoying the leverage that this technology is giving us!"
Scott C | Sustaining Engineer
"Marnee's done the research...
vetting every supplier she represents to ensure they produce consistent quality, can handle volume demands, and are fiscally stable.  She really understands manufacturing."
Doreen C  |  Supply Chain Manager